October 23, 2023
How to Prepare for Cognizant GenC Interview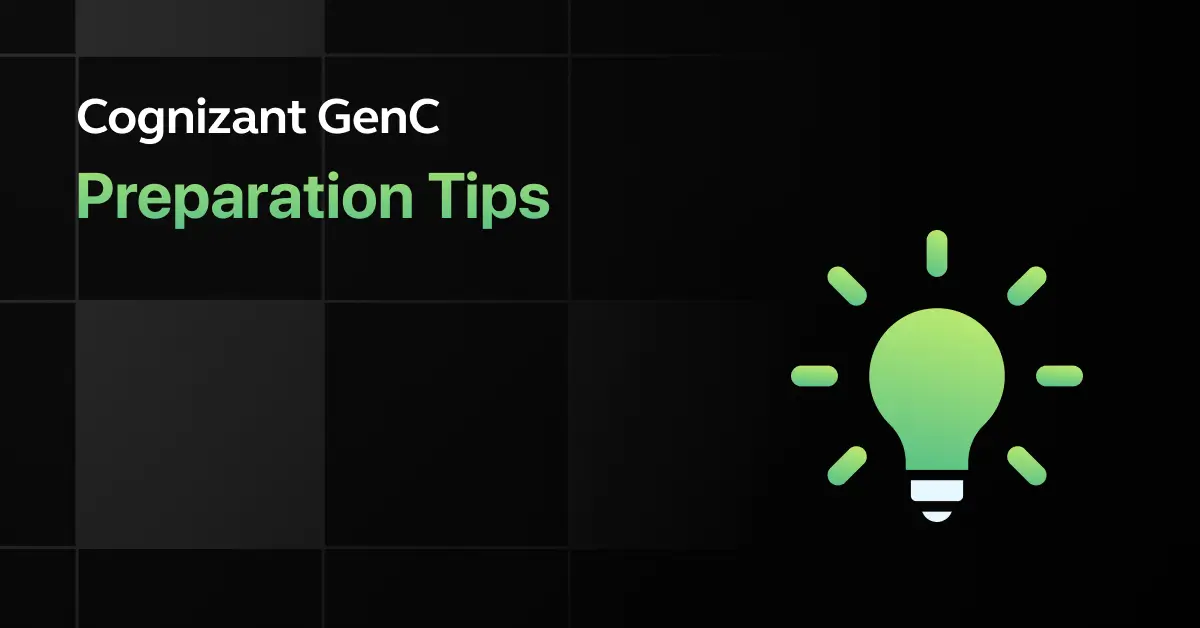 Stepping into the world of opportunities at Cognizant GenC is a dream for many freshers, and the first crucial step towards this dream is acing the interview.
Read on to learn the essential steps and tips to help you prepare effectively for the Cognizant GenC interview and increase your chances of success.
Cognizant GenC Interview Preparation Tips
Below are the insightful tips tailored for each stage of Cognizant GenC selection process:
1. Online Test
For the online test, your aim should be to master the topics in quantitative aptitude, logical reasoning, and verbal ability. Below are some tips to help you achieve this.
1.1 Practice Makes Perfect
Spend dedicated time solving sample questions on quantitative aptitude and logical reasoning. The more you practice, the better you'll perform.
1.2 Work on Speed and Accuracy
In exams like these, time is of the essence. Improve your speed without compromising on accuracy.
1.3 Reading Comprehension
Don't skim through passages; ensure you understand the context to answer questions correctly.
2. Communication Assessment
This section evaluates your proficiency in written and spoken English. Here's how you can prepare.
2.1 Language Brush-Up
Work on grammar basics and build your vocabulary.
2.2 Listen and Learn
To excel in listening tests, make it a habit to listen to English podcasts or news daily.
3. Technical Interview
The technical interview will gauge your skill sets and problem-solving capabilities. The following tips may come in handy.
3.1 Review Fundamentals
Be it any programming language or database management; strong fundamentals are crucial.
3.2 Behavioral Questions
Prepare to discuss your experience, challenges, and problem-solving instances. Your approach matters as much as your technical skills.
General Preparation Tips for Cognizant GenC Exam
1. Plan Early
Start your preparation well in advance to allocate enough time for each section.
2. Mock Tests
Make use of online resources and take mock tests to evaluate your preparation level.
3. Stay Updated
Be aware of the latest syllabus and exam patterns. Keep yourself updated with any changes in the guidelines.
FAQs
1. How should I start my preparation for the interview at Cognizant GenC?
To kick off your preparation, first take a close look at the syllabus and test pattern to understand the scope and types of questions you'll encounter. Then, allocate time for each section and create a study plan. This will help you prioritize areas based on your strengths and weaknesses.
2. What are the key qualities or skills Cognizant GenC looks for in candidates?
Cognizant GenC primarily seeks candidates with strong problem-solving abilities, logical reasoning skills, and effective communication. These core competencies are essential for any role you'll be applying for, and showing prowess in these areas will set you apart from other candidates.
3. Do you have any general interview preparation tips for success at Cognizant GenC?
It's important to stay calm under pressure and manage your time wisely during the tests. Focusing on the quality of your answers rather than rushing through questions can make a significant difference in your scores.
4. What should I expect in the Online test at Cognizant GenC?
In the online test, you can expect questions that span across quantitative aptitude, logical reasoning, and verbal ability. These questions are designed to assess not just your academic knowledge but also your ability to apply these skills in a work-like environment.
5. What should I expect in the communication assessment round at Cognizant GenC?
For the communication assessment round, anticipate being evaluated on both your written and spoken English skills. This could involve a variety of tasks from grammar tests to listening comprehension and even oral communication exercises.
6. What should I expect in the technical interview round at Cognizant GenC?
The technical interview will focus on assessing your coding and problem-solving skills. You will face a series of questions that range in difficulty from easy to moderate.
Be prepared to showcase your technical skills and to answer scenario-based questions that test your application of technical knowledge.
Explore More Cognizant GenC Resources