October 21, 2023
Cognizant GenC Registration Process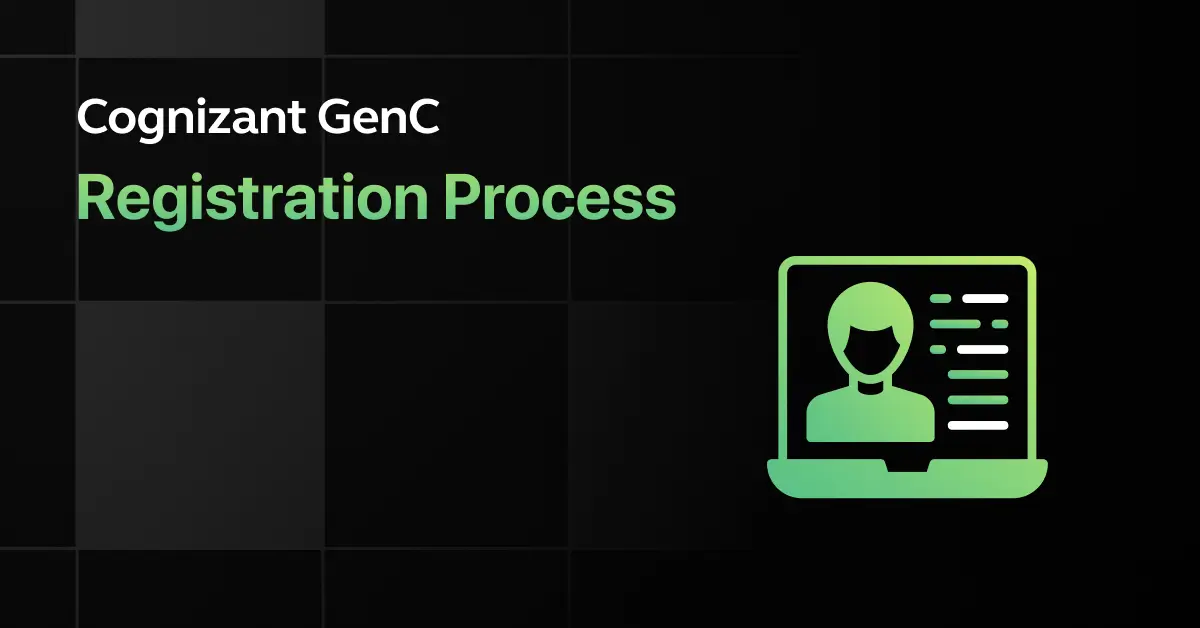 Cognizant is a multinational corporation specializing in IT services, consulting, and a myriad of business process solutions. The company excels in delivering cutting-edge services across different sectors such as technology, consulting, and digital evolution.
Established in 1994, Cognizant is dedicated to empowering its clients and creating lasting value for all its partners. With its global headquarters in Teaneck, New Jersey, USA, the corporation has an expansive reach, operating in over 50 countries worldwide.
If you're considering launching your career at Cognizant or seeking new opportunities, understanding the Cognizant GenC registration process is crucial.
Here's the step-by-step process to help you apply for a role at Cognizant:
Cognizant GenC Registration Process: Quick Overview
Here's an overview of the Cognizant GenC Registration Process:
| S.No | Recruitment Detail | Information |
| --- | --- | --- |
| 1. | Batch | 2024 |
| 2. | Degree Holders | BE/B.tech/M.E./M.Tech |
| 3. | Mode of Exam | Online |
| 4. | Test Date | Yet to be announced |
| 5. | Registration Link | Available soon |
| 6. | Registration Ends on | Yet to be announced |
Cognizant GenC Registration Process – Step by Step
To begin the registration process for Cognizant GenC, follow the steps listed below:
Step 1: Click on Register Now
Navigate to the official Cognizant GenC registration website and click on 'register now'.
Step 2: Create Superset Account
You'll be prompted to enter your email ID. Make sure to use an email ID that you frequently check, as all correspondence will be sent there. Click on the button below to proceed.
Step 3: Fill Basic Details
This step involves providing fundamental information about yourself, including your name, date of birth, and gender, among others. It lays the foundation for your application.
Step 4: Contact Details
In this section, you'll enter your contact information, such as your address, email, and phone number. Ensuring accuracy is crucial for communication purposes.
Step 5: Enter Education Details
Here, you will detail your current educational status, including information about your ongoing graduation program, university, and expected graduation date. This helps Cognizant assess your academic progress.
Step 6: Enter Internship Experience
If you have any prior internship or work experience relevant to the IT industry, this is the section to showcase it. Detail your roles, responsibilities, and the duration of your experiences.
Step 7: Profile Photo & Documents
In the final step, you may be required to upload a professional profile photo and any necessary documents, such as academic transcripts or certificates. These documents help verify your qualifications.
Step 8: Select GenC
Apply for the category you want to appear for. In this instance, you must select GenC.
Step 9: Fill the form
Complete the application form with accurate details. Use a personal email ID for registration, avoiding college or university email addresses.
Step 10: Upload Resume and Apply
After filling out all the details, you have to upload your resume. Once that is done, click on apply to complete the application.
Cognizant GenC Registration Process – Important Points
Below are some important points to consider during the registration process:
Single Category Application: Apply for only one category—either GenC Elevate or GenC. Applications for both will be rejected.
Mandatory Skill Selection: You must choose one basic Skill or Skill Cluster for GenC.
Existing Users: If you've previously registered, you can use the same login credentials.
Email ID: Use a personal email ID for registration. College or university email addresses are not recommended.
Accurate Details: Your name and date of birth should exactly match your 10th-grade mark sheet.
No Changes Allowed: Make sure your profile is accurate, as changes won't be entertained later.
Education Gaps: Declare any gaps in your education. Breaks should not exceed 2 years and must be for valid reasons.
Communication: All communications will primarily be through the Superset platform, where you can also check your application status.
Key Takeaways
Cognizant GenC offers exciting career opportunities across a range of sectors. Their application process is straightforward, and with the right preparation and patience, you might just land your dream job. Good luck!
For any additional queries, consider browsing the FAQ section on the Cognizant career portal or reach out to their HR team.
Frequently Asked Questions
1. What qualifications are required to register for the Cognizant GenC exam?
To register for the Cognizant GenC exam, candidates must meet specific eligibility criteria. This includes being a full-time graduate from the 2024 batch in disciplines like B.E., B.Tech, M.E., or M.Tech with a minimum academic performance of 60% in X, XII, UG, Diploma, and PG. Additionally, candidates should have no active backlogs, not more than a 2-year education gap, and must be Indian nationals. These criteria ensure that candidates have the qualifications and skills needed to excel in Cognizant GenC roles.
2. When is the last date to apply for Cognizant GenC 2024?
The date is yet to be announced for Cognizant GenC 2024.
3. What are the steps in the Cognizant GenC registration process?
The registration process involves several steps:
Visit the official registration portal.
Log in if you're an existing user or click "Register Now" if you're new.
Complete the application form using a personal email ID.
Choose a Skill or Skill Cluster you wish to apply for.
Verify all your details, ensuring they match your 10th-grade mark sheet.
Submit your application.
4. What documents need to be uploaded during the Cognizant GenC registration?
You'll generally need to upload the following documents:
Resume
Passport-sized photograph
Educational certificates (10th, 12th, and Graduation)
Identification proof (Aadhar Card, Passport, etc.)
5. Is it possible to edit my details if I've made mistakes during the registration process?
Yes, it is possible to edit details if you have made mistakes during the registration process.
6. What are the do's and don'ts for Cognizant GenC registration and exam?
Do's:
Do read all the guidelines and eligibility criteria carefully before starting the registration process.
Do use a personal email ID for registration.
Do double-check all the information you provide.
Do prepare well for the exam, focusing on the Skill or Skill Cluster you've chosen.
Don'ts:
Don't apply for both GenC and GenC Elevate; choose only one.
Don't use a college or university email for registration.
Don't leave any mandatory fields blank in the application form.
Don't miss the deadline for application submission.
7. What are the consequences of making a mistake in the Cognizant GenC registration form?
Mistakes in the registration form can lead to complications ranging from delays in processing your application to outright rejection.
8. What should I do if I forget my Cognizant GenC registration login details?
If you forget your login details, go to the login page and click on the "Forgot Password" or "Forgot Username" link. Follow the instructions to reset your password or retrieve your username.
9. How can I track the status of my Cognizant GenC application?
You can track your application by logging in to your Superset platform.
10. Is work experience a requirement for Cognizant GenC eligibility?
Work experience is generally not a mandatory requirement for Cognizant GenC, but having relevant experience can be an advantage.
Explore More Cognizant GenC Resources