September 19, 2023
Accenture Registration Process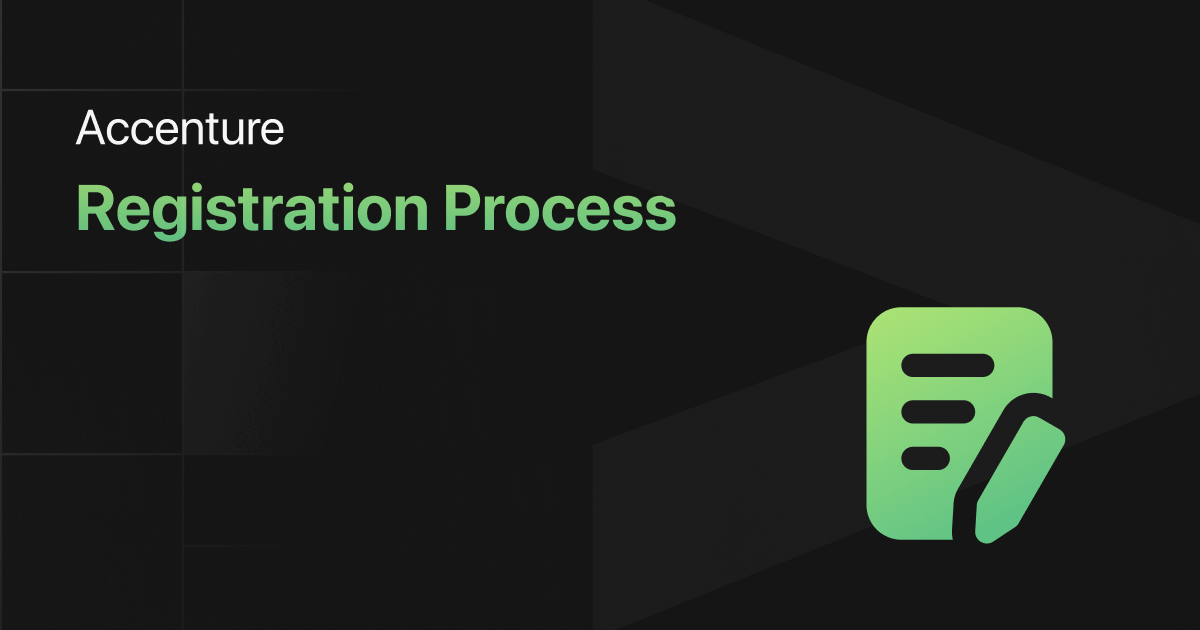 Accenture is a world-renowned professional services company, offering innovative solutions in strategy, consulting, digital, technology, and operations.
It was founded in 1989 with a vision to improve client performance and generate sustainable stakeholder value. Headquartered in Dublin, Ireland, Accenture has a broad footprint spanning over 50 countries.
If you're considering launching your career at Accenture or seeking new opportunities, understanding the registration process is crucial. Here's the step-by-step process to help you apply for a role at Accenture:
Accenture Registration Process: Quick Overview
Here's a overview of the Accenture Registration Process:
| S.No | Recruitment Detail | Information |
| --- | --- | --- |
| 1. | Batch | 2022 & 2023 |
| 2. | Degree Holders | BE/B.tech, MCA and M.Sc. (CSE, IT only) |
| 3. | Mode of Exam | Online |
| 4. | Test Date | Yet to be announced |
| 5. | Registration Link | Apply Now |
| 6. | Registration Ends on | Yet to be announced |
Accenture Registration Process – Step by Step
To begin the registration process for Accenture, follow the steps listed below:
Step 1: Visit the Accenture Career Portal
Start by visiting the Accenture website and navigate to the "Careers" section on the homepage.
Step 2: Job Search
Search for jobs using keywords, location, or job category. Click on the job title you're interested in for more detailed information.
Step 3: Create an Account
You'll need to create an account if you haven't already. The account creation requires your name, email address, and a password. Alternatively, you may sign in using your LinkedIn account.
Step 4: Complete Your Profile
Once your account is created, complete your profile by providing contact information, education, work experience, and other relevant details.
Step 5: Resume Submission
Upload a well-structured resume that includes your education, work experience, skills, and other pertinent information.
Step 6: Apply for the Job
After completing your profile and uploading your resume, apply for the job by clicking the "Apply" button.
Step 7: Wait for a Response
Once you've submitted your application, wait for a response from Accenture. If your application is selected, you may be invited for an interview or asked to undertake additional assessments.
Accenture Registration Process – Important Points
Before initiating the application process, remember to:
Check Eligibility: Before applying, ensure you meet all the eligibility criteria for Accenture, including academic qualifications, percentage criteria, and backlog limitations.
Prepare Documents: Have all your essential documents ready, such as academic certificates, identification proof, and a recent photograph.
Valid Email ID: Use a valid and personal email ID for registration, as all communication will be sent to this email.
Test Center Location: Consider the location of the nearest test center to your residence, as you'll need to select this during the application process.
Security Questions: Be prepared to answer security questions and remember the answers for future reference.
Application ID: Keep a note or screenshot of the Application ID generated during the registration process, as it will be required for future logins.
Review Details: Double-check all the details entered during the application process to avoid any errors or discrepancies.
Confirmation Mail: Keep an eye on your email for the confirmation mail, which signifies the successful completion of the registration process.
Key Takeaways
Accenture offers exciting career opportunities across a range of sectors. Their application process is straightforward, and with the right preparation and patience, you might just land your dream job. Good luck!
For any additional queries, consider browsing the FAQ section on the Accenture career portal or reach out to their HR team.
Frequently Asked Questions
1. How to register for Accenture Campus Recruitment ?
Follow the following steps:
Visit the Accenture campus recruitment portal.
Register yourself by providing necessary details like name, email, and contact number.
Fill in the necessary details including your academic qualifications.
Upload your resume and submit your application.
Wait for the confirmation email from Accenture for the further recruitment process.
2. What documents do I need to register for Accenture?
To register for Accenture, you'll typically need to provide your updated resume, which should include your personal details, educational qualifications, work experience, and skills.
Some roles may require additional documents, like transcripts or certifications, which will be specified in the job description.
3. How long does the registration process take?
The registration process for Accenture can vary based on the individual, but it typically takes about 15-20 minutes. This can be longer if additional time is needed to update your resume or gather necessary information.
4. Can I register for multiple positions at the same time?
Yes, you can apply for multiple positions at the same time using the same account.
5. Can I edit my registration details after submitting my application?
Yes, you can typically edit your registration details after submitting your application by logging back into your account.
6. How do I track my application status?
You can track the status of your application by logging into your account on the Accenture careers portal.
After logging in, navigate to the 'My Applications' section where you can view the current status of all your submitted applications.
Explore More Accenture Resources