January 3, 2023
Best Websites for Accessing Research Papers for Students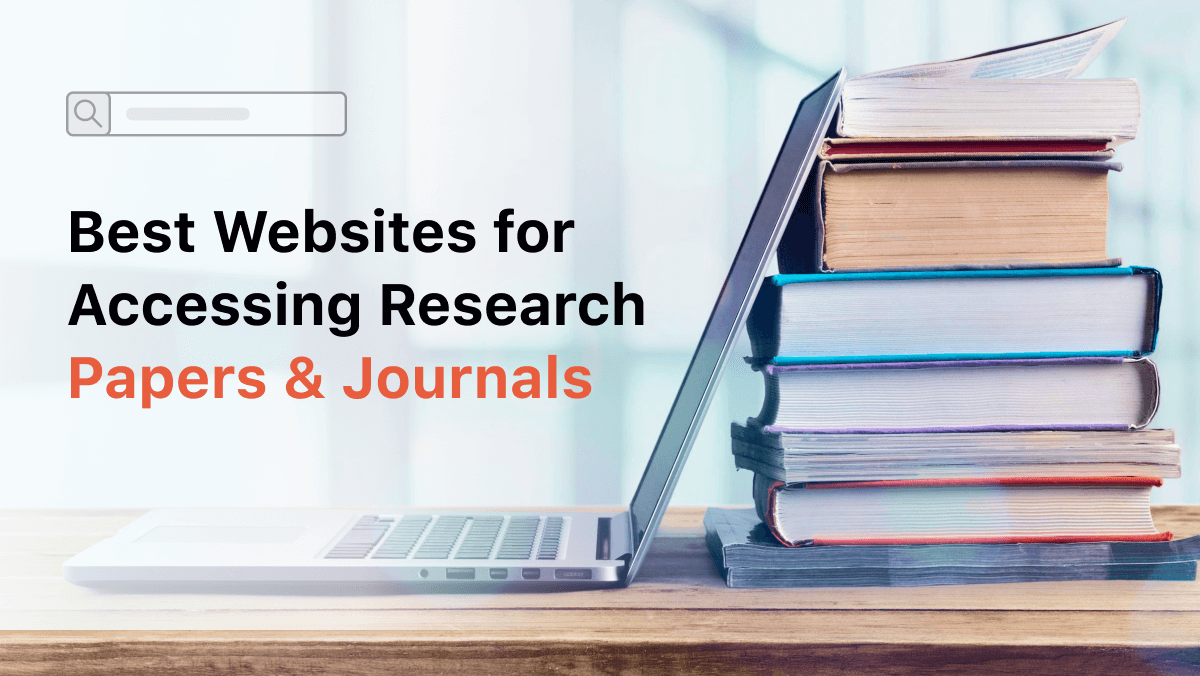 As a college student, you may have heard the phrase "research is important" thrown around by your professors all the time, but you may be wondering exactly why that is?
Not only does it help students better understand their chosen field of study, but it also allows them to develop important skills such as critical thinking, problem-solving, and communication.
In this article, we will be highlighting some of the best websites for accessing a wide range of research materials. Whether you're looking for papers in a specific field or just want a general database of scholarly articles, these websites have got you covered.
Best Websites for Accessing Research Papers & Journals
The following are the best websites for college students to access research papers & journals:
1. Google Scholar
Google Scholar is a search engine that specifically searches for scholarly literature, including articles, books, theses, conference proceedings, etc. It is a free resource that can be accessed through the website, and it is available to anyone who is interested in finding research papers and other academic materials.
One of the benefits of using Google Scholar is that it searches a wide range of sources, including academic publishers, professional societies, online repositories, and universities. This means that you can find a diverse range of materials on a variety of topics.
Google Scholar also allows you to search for specific authors or institutions, and it provides tools to help you track your own research and manage your citations. You can also set up alerts to receive notifications when new research is published on a particular topic.
Pricing: Free
2. Microsoft Academic
Microsoft Academic is a free, public web search engine that allows users to search for academic papers, conferences, journals, and authors. It was developed by Microsoft and launched in 2012.
One of the key features of Microsoft Academic is its ability to search for papers based on the relationships between them. For example, you can use the website to find documents that have been cited by a particular research paper or research papers that have cited a particular research paper.
This can be a useful tool for researchers looking to discover new papers in their field or for students seeking additional resources for a research project.
Microsoft Academic also includes information about authors, conferences, and journals, and allows users to track their academic activity and achievements. Users can create their own profiles on the website and add their own papers to the database.
Pricing: Free
3. Science.gov
Science.gov is a website that provides access to over 60 databases, over 2,200 websites, and over 200 million pages of scientific and technical information from U.S. government agencies, including full-text documents, citations, scientific data supporting federally funded research, and multimedia.
It is a collaborative effort between various U.S. government agencies and is maintained by the U.S. Department of Energy's Office of Scientific and Technical Information (OSTI).
Users can search for information using keywords or browse by topic. Science.gov is a useful resource for researchers, students, and anyone else interested in accessing scientific and technical information from U.S. government agencies.
Pricing: Free
4. ResearchGate
ResearchGate is a social networking site for scientists and researchers to share papers, ask and answer questions, and find collaborators.
It was founded in 2008 by Ijad Madisch, Sören Hofmayer, and Horst Fickenscher. As of 2022, the website has over 20 million users from 190 countries, and hosts over 17 million research articles.
ResearchGate allows users to search for and access research papers for free, although some papers may be behind a paywall. The site also provides tools for researchers to manage their publications, track their impact, and connect with their peers. In addition to hosting research papers, ResearchGate also has a question and answer forum where users can ask and answer questions on various scientific topics.
Pricing: Free (some articles are behind a paywall)
5. BASE
BASE (Bielefeld Academic Search Engine) is a search engine for scholarly web resources, including research papers and journals. It was developed at Bielefeld University in Germany and is operated by the Bielefeld University Library.
BASE claims to be one of the most voluminous search engines for academic web resources, with over 300 million documents from more than 10,000 content providers. including research papers, theses, conference proceedings, and more.
The search engine is free to use and provides access to a wide range of academic content. In addition to searching for research papers, users can also use BASE to search for other types of academic resources, such as datasets, images, and videos.
Pricing: Free
Access Research Papers Now
6. Directory of Open Access Journals
The Directory of Open Access Journals (DOAJ) is a digital library that provides access to free, full-text, peer-reviewed open access journals. Open access journals are scholarly journals that are available online and are free to access and read.
The DOAJ was launched in 2003 with the goal of increasing the visibility and accessibility of open access scientific and scholarly journals. It currently contains over 13,000 journals and more than 3.5 million articles.
The DOAJ is a not-for-profit organization that is supported by a number of organizations and individuals. It is run by a small team of staff and governed by a steering committee made up of representatives from the open access community.
Pricing: Free
Access Research Papers Now
7. Royal Society Open Science
The Royal Society Open Science is a peer-reviewed scientific journal that publishes original research across the natural and physical sciences. It is published by the Royal Society, which is a fellowship of the world's most eminent scientists and the oldest scientific academy in continuous existence.
It is an open access journal, which means that all of its articles are available to read and download for free. All articles are subject to rigorous peer review to ensure the highest quality and standards.
The journal was established in 2014 with the goal of increasing transparency and reproducibility in scientific research. It has a broad scope and publishes research articles, reviews, letters, and perspectives. The journal covers a wide range of scientific disciplines, including biology, chemistry, physics, and engineering.
Pricing: Free
Access Research Papers Now
8. JSTOR
JSTOR (short for Journal Storage) is a digital library that provides online access to thousands of academic journals, books, and primary sources. It was founded in 1995 by William G. Bowen, then-president of the Andrew W. Mellon Foundation, as a way to digitize and preserve scholarly literature. JSTOR is a subscription-based service that provides access to its collections to libraries, institutions, and individuals.
JSTOR's collections include more than 12 million academic journal articles, books, and primary sources in the arts, humanities, and social sciences. It also has a growing selection of ebooks and other resources in science, technology, and medicine.
JSTOR is known for its high-quality content and advanced search and discovery tools, which make it a popular resource for researchers and students.
Pricing: Subscription-based
Access Research Papers Now
Conclusion
The websites listed above are just a few of the many options available for accessing research papers and journals. These websites can provide a wealth of knowledge and help you stay up-to-date on the latest research and developments in your field.
Be sure to check out the various options and see which one works best for your needs and budget.