October 20, 2023
How to Prepare for Cognizant GenC Next Interview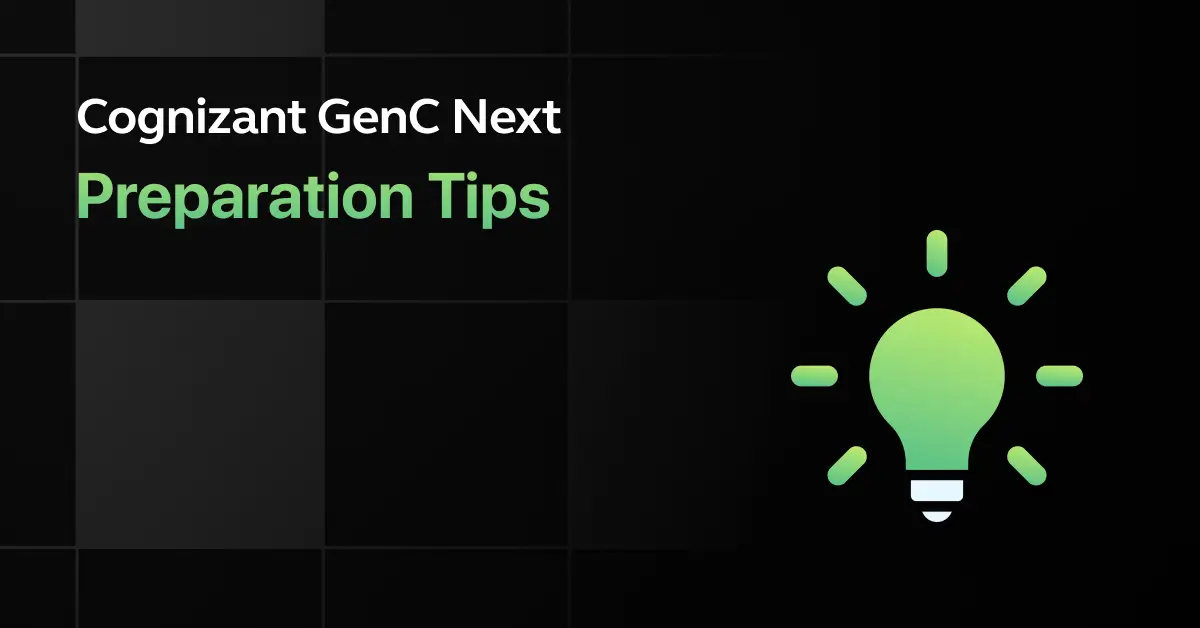 Stepping into the world of opportunities at Cognizant GenC Next is a dream for many freshers, and the first crucial step towards this dream is acing the interview.
Read on to learn the essential steps and tips to help you prepare effectively for the Cognizant GenC Next interview and increase your chances of success.
Cognizant GenC Next Interview Preparation Tips
Below are the insightful tips tailored for each stage of Cognizant GenC Next selection process:
1. Skill-Based Assessment
The Skill-Based Assessment is your first hurdle and involves multiple-choice questions and coding challenges.
1.1 Understand the Syllabus
Familiarize yourself with the syllabus well ahead of the interview date. Knowing what to expect will help you focus your study efforts on relevant materials.
1.2 Time Management
Practice completing questions within the allocated time frame. The more you practice, the better you'll get at managing your time during the actual assessment.
2. Technical Interview
Technical interviews usually focus on your specialized skills and may involve solving coding problems or answering theoretical questions.
2.1 Review Basic Concepts
Brush up on basic concepts related to programming, data structures, and algorithms.
2.2 Prepare Behavioral Questions
Besides technical questions, be prepared to answer behavioral questions that assess your problem-solving abilities, teamwork, and communication skills.
General Preparation Tips for Cognizant GenC Next Exam
Besides specific tips for each section, here are some general guidelines to help you succeed in the Cognizant GenC Next interview:
1. Prioritize Based on Weightage
Understand the weightage of each section and topic within the Skill-Based Assessment and Technical Interview. Allocate more time to areas that carry higher marks or are known to be more challenging.
This way, you can maximize your score by focusing on high-impact areas.
2. Use a Multi-Resource Approach
Don't limit yourself to just textbooks or a single online course. Make use of multiple resources like video tutorials, coding platforms, online forums, and sample projects.
Different resources provide different perspectives and problem-solving techniques that can be highly beneficial.
3. Conduct Mock Interviews and Timed Tests
Practice is key to success in any interview or test. Conduct mock interviews with a friend or mentor who can give you unbiased feedback. For the Skill-Based Assessment, take timed tests to simulate exam conditions.
This not only helps you get used to the pressure but also aids in time management.
FAQs
1. How should I start my preparation for the interview at Cognizant GenC Next?
To kick off your interview prep for Cognizant GenC Next, first get a grasp of the exam's syllabus and format. Then, tailor your study schedule accordingly.
2. What are the key qualities or skills Cognizant GenC Next looks for in candidates?
Cognizant GenC Next typically values candidates who possess strong technical skills, the ability to solve problems effectively, and excellent communication capabilities.
3. Do you have any general interview preparation tips for success at Cognizant GenC Next?
For a successful interview at Cognizant GenC Next, consistent practice is crucial. Additionally, keep an eye on current industry trends and be prepared to discuss them.
4. What should I expect in the MCQ section at Cognizant GenC Next?
In the MCQ section at Cognizant GenC Next, be prepared for questions covering topics like programming basics, data structures, and algorithms.
5. What should I expect in the coding section at Cognizant GenC Next?
In the coding section, you can expect to tackle around 5-6 coding challenges that vary from basic to advanced levels.
6. What should I expect in the technical interview round at Cognizant GenC Next?
During the technical interview at Cognizant GenC Next, be ready for questions that assess both your technical expertise and your capacity to apply these skills in practical situations.
Explore More Cognizant GenC Next Resources