October 28, 2023
TCS iON CCQT Recruitment Process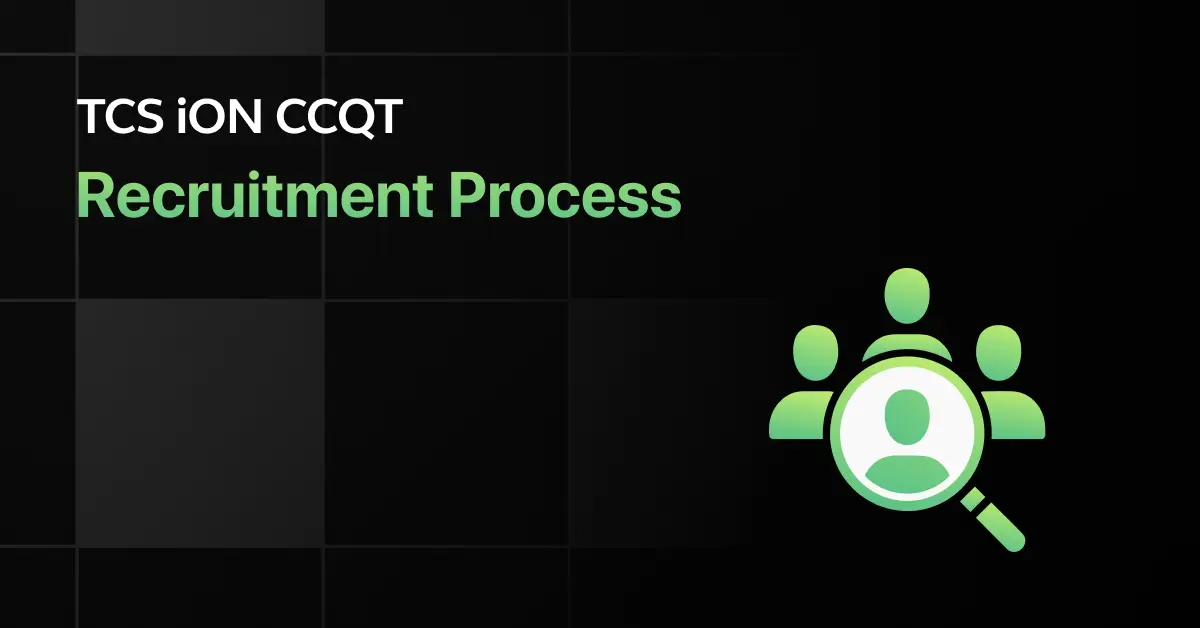 If you're looking to launch your career, the TCS iON CCQT Recruitment process can be your gateway to success. This off-campus recruitment drive is designed to identify and select promising freshers to join the TCS team and affiliated organizations.
Delve into the details of the TCS iON CCQT hiring and interview process for freshers with sheds light on what aspiring candidates can expect as they embark on this exciting career opportunity.
Here are the details of the TCS iON CCQT Recruitment Process.
TCS iON CCQT Job Roles
Through TCS iON CCQT, affiliated companies and TCS hires candidates for a variety of job profiles.
The specific job roles that are available to TCS iON CCQT qualifiers will vary depending on the company's needs and the candidate's skills and experience:
| Job Profiles | Job Roles |
| --- | --- |
| Production | Project manager |
| Quality Assurance and Maintenance | Construction manager |
| Supply chain management | Architect |
| Research and Development | Design Engineer |
| Sales | Sales Manager |
| Marketing | Marketing Manager |
| | Business Development Manager and Executives |
| | Finance Manager |
TCS iON CCQT Recruitment Eligibility Criteria
While TCS iON CCQT offers an exciting path to a career with TCS and affiliated companies, to get started you must meet specific eligibility criteria.
Here's a detailed breakdown of the recruitment eligibility criteria for TCS iON CCQT:
| S.No | Eligibility Criteria for TCS iON CCQT | Information |
| --- | --- | --- |
| 1. | Academic Criteria | Minimum of 60% or 6.5 CGPA in graduation. Eligible streams include B.E/B.Tech, M.E/M.Tech, BCA, MCA, B.Sc, B.Com, etc. |
| 2. | Backlog Criteria | No active backlogs |
| 3. | Education and Gap Criteria | No gap is preferred, but if any, must be documented with sound reasons. |
| 4. | College Attendance Requirements | Not specified |
| 5. | Citizenship or Appropriate Documentation | Should be an Indian Citizen or should carry a PIO or OCI card, in case holding a passport of any other country. |
| 6. | Gap Between Applications | There should be a rest time of at least 3 months in between the previous and present application of a candidate. |
TCS iON CCQT Recruitment Process for Freshers 2023
The TCS iON CCQT is a 3(three) step recruitment process:
Online Test
Video-Based Assessment
Interview
Here's the breakdown:
1. Stage 1 – Online Test
Stage 1 is the mandatory common proctored assessment that every candidate must undertake. It comprises three stages and is worth a total of 120 marks.
| Sections | Topics | No. of Questions | Time Allotted (In Minutes) |
| --- | --- | --- | --- |
| Mandatory section: | | 60 | 60 (shared) |
| | Quantitative Aptitude | 20 | |
| | Reasoning Ability | 20 | |
| | English Language | 20 | |
| Subject section: | | 12 | 60 (shared) |
| | Programming MCQ | 10 | 15 |
| | Coding | 2 | 45 |
1.1. Mandatory Section
The first stage is mandatory for all applicants as it tests their quantitative, communication and reasoning skills.
1.1.1 Quantitative Aptitude
The Quantitative Aptitude test in the TCS iON CCQT exam consists of 20 questions covering topics such as Linear and Quadratic Equations, Probability, HCF, and LCM. This section assesses candidates' mathematical problem-solving skills and numerical reasoning abilities.
1.1.2 English Language
The English Language test in the TCS iON CCQT comprises 20 questions covering topics such as Vocabulary, Error correction, Tenses, Synonyms, and more, designed to assess candidates' language proficiency and comprehension skills.
1.1.3 Reasoning Ability
The Reasoning Ability test in the TCS iON CCQT consists of 20 questions covering topics such as Odd one out series, Analogy, Missing number series, Ages, and more. It assesses candidates' logical and analytical thinking skills.
1.2. Subject Section
This is the final phase of the first stage, offering optional field-specific examinations. It is worth 60 marks and must be completed within 60 minutes.
1.2.1. Programming MCQ
The Programming MCQ section, consisting of 30 questions, serves to rigorously evaluate candidates' programming skills and expertise in their chosen field.
1.2.2 Coding
Applicants in the CS and IT domains will receive a single medium-level coding question as part of the assessment to evaluate their programming skills and proficiency in these specific fields.
2. Stage 2 – Video Based Assessment
Stage 2 involves a video-based assessment designed to comprehensively evaluate candidates in the areas of communication, behavioral competencies, and soft skills.
Through this assessment, a candidate's ability to effectively communicate, exhibit appropriate behaviors, and demonstrate valuable soft skills such as teamwork, problem-solving, and adaptability are thoroughly examined.
3. Interview
After successfully progressing through both stages, the next phase entails interviews with multiple companies. During these interviews, candidates will undergo evaluations on various aspects to determine their suitability for the respective organizations.
FAQs
1. How many rounds are there in the TCS iON CCQT recruitment process?
There are 3 (three) rounds in the TCS iON CCQT recruitment process.
2. What are the different rounds in TCS iON CCQT recruitment process in 2023?
The first round is the common proctored assessment to test skills and qualifications and the second round is a video assessment to evaluate communication skills.
3. Which rounds are elimination rounds in the TCS iON CCQT recruitment process?
Elimination rounds have not been mentioned or identified by TCS.
4. Are there any specific job roles within TCS iON CCQT that have different recruitment processes?
No, TCS iON CCQT is a recruitment process that hires for different roles across different companies. It is one common test.
Explore More TCS iON CCQT Resources