October 28, 2023
TCS iON CCQT Registration Process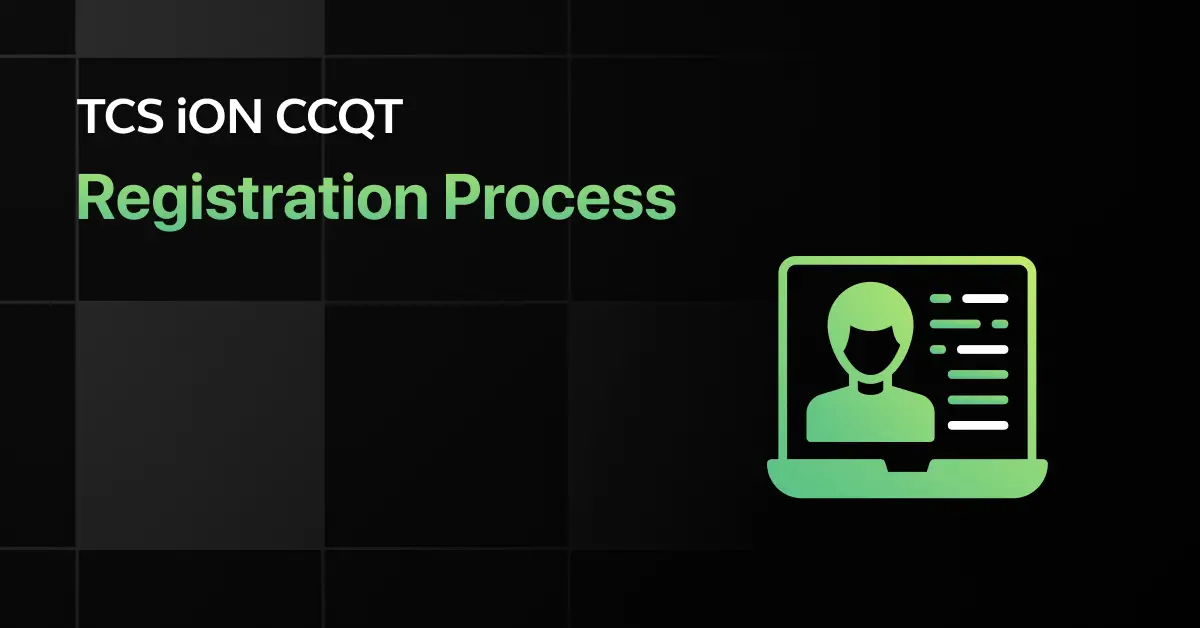 Tata Consultancy Services (TCS) is a renowned global IT services and consulting company, offering innovative solutions in technology, business strategy, digital transformation, and operations.
Founded in 1968, TCS is dedicated to elevating client achievements and generating enduring value for its stakeholders.
If you are looking for a career in TCS or explore new job prospects, here's the TCS iON CCQT registration process offering a gateway to a world of opportunities.
TCS iON CCQT Registration Process: Quick Overview
Here's an overview of the TCS iON CCQT Registration Process:
| S.No | Recruitment Detail | Information |
| --- | --- | --- |
| 1. | Batch | 2018-2024 |
| 2. | Degree Holders | BE/B.Tech, MCA, and M.Sc |
| 3. | Mode of Exam | Online |
| 4. | Test Date | December 2023 |
| 5. | Registration Link | Available soon |
| 6. | Registration Ends on | To be announced |
TCS iON CCQT Registration Process – Step by Step
To begin the registration process for TCS iON CCQT, follow the steps listed below:
Step 1: Visit the TCS iON CCQT Qualifier page
First, navigate to the official TCS iON Qualifier page using the provided link. Once on the homepage, click on "Buy now."
Step 2: Log In or Sign Up
After reaching the product page, candidates are prompted to either log in using their existing TCS iON Digital Learning Hub credentials or sign up as new users.
Step 3: Share Registration Details
Once candidates are logged in or signed up, they are required to provide their personal details, including names, email IDs, phone numbers, and center preferences, which are necessary to generate their hall tickets.
Step 4: Make Payment
Upon successful registration and payment, candidates will receive a confirmation message on their registered email IDs or mobile numbers.
Step 6: Receive Hall Ticket
Two days before the scheduled exam date, candidates will automatically receive their hall tickets through the provided contact information.
TCS iON CCQT Registration Process – Important Points
Below are some important points to consider during the registration process:
Check Eligibility: Ensure you meet academic and percentage criteria, and have no backlogs.
Prepare Documents: Gather academic certificates, ID proof, and a recent photo.
Valid Email ID: Use a valid, personal email for communication.
Application ID: Save your Application ID for future logins.
Review Details: Double-check all entered information for accuracy.
Test Mode: Decide between remote or center-based test.
Confirmation Mail: Watch for a confirmation email indicating successful registration.
Key Takeaways
TCS iON CCQT offers exciting career opportunities across a range of sectors. Their application process is straightforward, and with the right preparation and patience, you might just land your dream job. Good luck!
For any additional queries, consider browsing the FAQ section on the TCS career portal or reach out to their HR team.
Frequently Asked Questions
1. What qualifications are required to register for the TCS iON CCQT exam?
To be eligible for TCS iON CCQT, candidates should possess the following qualifications:
A minimum of 60% in their 10th and 12th board exams.
Maintain a GPA of 60% or higher (equivalent to 6.5) in their Undergraduate (UG), Postgraduate (PG), and Diploma programs.
Belong to eligible academic streams such as B.E/B.Tech, M.E/M.Tech, BCA, MCA, B.Sc, B.Com, and similar fields.
2. When is the last date to apply for TCS iON CCQT 2023?
The date is yet to be announced for TCS iON CCQT 2023.
3. What are the steps in the TCS iON CCQT registration process?
Candidates must create a profile on the TCS iON page to apply for CCQT.
4. What documents need to be uploaded during the TCS iON CCQT registration?
Documents to be uploaded include academic qualifications, work experience and citizenship and personal information.
5. Is it possible to edit my details if I've made mistakes during the registration process?
It is not possible to edit details already submitted during the registration process.
6. What are the do's and don'ts for TCS iON CCQT registration and exam?
Do's:
Check Eligibility: Ensure you meet all the eligibility criteria before starting the registration process.
Prepare Required Documents: Have your academic certificates, identification proof, and a recent photograph ready for uploading during registration.
Practice Mock Tests: Use available mock tests to familiarize yourself with the exam format and improve your performance.
Don'ts:
Avoid Multiple Applications: Submit only one application for the same exam; multiple applications can lead to disqualification.
Don't Use Unauthorized Materials: Do not use any unauthorized study materials or aids during the exam.
Don't Share Credentials: Never share your login credentials with others to maintain exam integrity and security.
7. What are the consequences of making a mistake in the TCS iON CCQT registration form?
It might lead to complications such as delays and rejection.
8. What should I do if I forget my TCS iON CCQT registration login details?
You can change your login credentials by clicking on 'Forgot password' or 'Forgot username' or get in touch with the HR team.
9. How can I track the status of my TCS iON CCQT application?
You can track your application through your profile on the TCS iON portal.
10. Is work experience a requirement for TCS iON CCQT eligibility?
No, it is not mandatory to have work experience. But candidates can leverage it in the interview.
Explore More TCS iON CCQT Resources