October 11, 2023
How to Prepare for Wipro Elite NTH Interview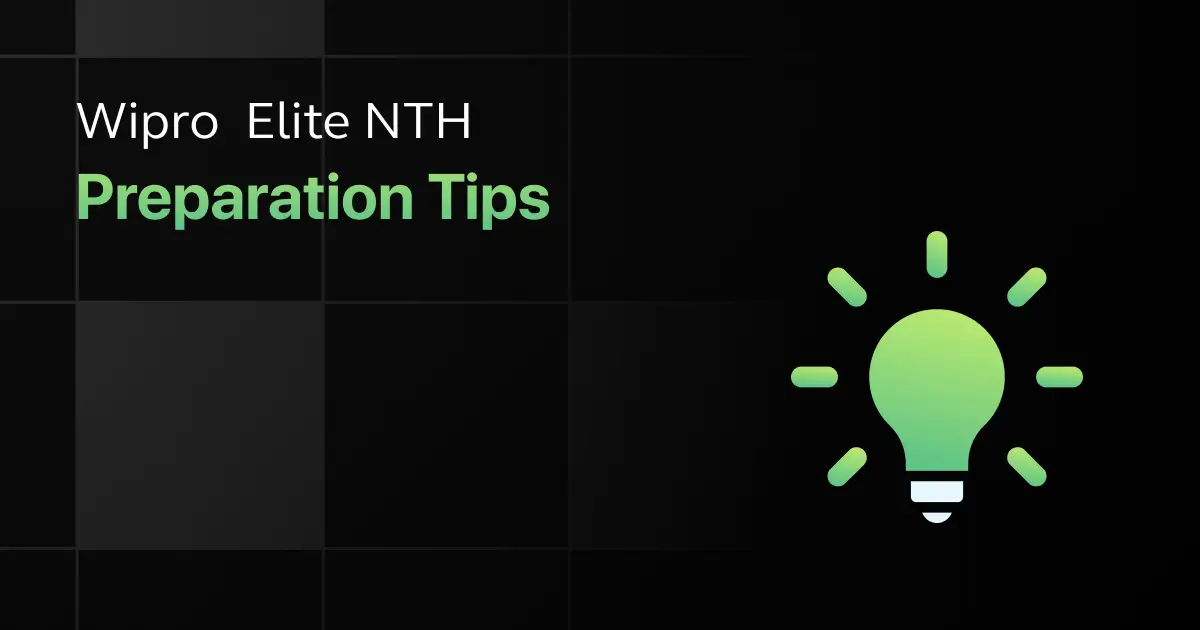 Stepping into the world of opportunities at Wipro Elite NTH is a dream for many aspiring professionals, and the first crucial step towards this dream is acing the interview.
Read on to learn the essential steps and tips to help you prepare effectively for the Wipro Elite NTH Interview and increase your chances of success.
Wipro Elite NTH Interview Preparation Tips
Below are the insightful tips tailored for each stage of Wipro Elite NTH selection process:
1. Aptitude Section
The aptitude section is a critical part of the Wipro Elite NTH interview process. It assesses your quantitative, logical, and verbal abilities. Here are some tips to excel in this section.
Tip 1: Practice Regularly
Regular practice is key to improving your aptitude skills. Solve mathematical problems, practice logical reasoning, and read extensively to enhance your verbal abilities.
Tip 2: Time Management
Effective time management is crucial during the aptitude test. Practice solving problems under time constraints to improve your speed and accuracy.
Tip 3: Mock Tests
Take advantage of mock tests. They simulate the actual test environment, helping you get used to the format and types of questions you'll encounter.
2. Written Communication Section
In this section, your essay writing skills will be evaluated. Here's how to excel.
Tip 1: Structured Writing
Structure your essays with a clear introduction, body, and conclusion. Ensure your ideas flow logically and coherently.
Tip 2: Grammar and Spelling
Pay attention to grammar and spelling. Proofread your essays to eliminate errors. Clear and concise language is essential.
3. Coding Section
The coding section tests your programming skills. Follow these tips to succeed.
Tip 1: Practice Coding Challenges
Practice coding challenges regularly to improve your problem-solving skills. Focus on algorithms and data structures.
Tip 2: Optimize Code
Write clean and efficient code. Optimize your solutions to ensure they run efficiently within time limits.
4. Technical Interview
The technical interview assesses your domain-specific knowledge. Prepare with these tips.
Tip 1: Know Your Basics
Review the fundamentals of your field of specialization. Be ready to explain concepts and solve technical problems.
Tip 2: Projects and Experience
Discuss relevant projects and experiences. Highlight your achievements and problem-solving abilities.
5. HR Interview
The HR interview evaluates your soft skills and suitability for the organization:
Tip 1: Self-Confidence
Project self-confidence in your answers. Showcase your ability to work in teams and your dedication to personal and professional growth.
Tip 2: Company Research
Research Wipro's values, culture, and recent developments. Show that you align with the company's ethos.
General Preparation Tips for Wipro Elite NTH Exam
Besides specific tips for each section, here are some general guidelines to help you succeed in the Wipro Elite NTH interview:
Tip 1: Stay Updated
Stay updated with industry trends and current affairs. This knowledge can be valuable in various rounds of the interview.
Tip 2: Group Discussions
Practice group discussions to improve your communication and teamwork skills.
Tip 3: Mock Interviews
Conduct mock interviews with friends or mentors to gain confidence and receive constructive feedback.
FAQs
1. How should I start my preparation for the interview at Wipro Elite NTH?
To kick off your preparation, consider the following steps:
Familiarize yourself with the selection process, which comprises three rounds: Online Assessment, Technical Assessment, and HR Interview/Business Discussion.
Focus on the online assessment round that includes sections on Quantitative Aptitude, Logical Reasoning, and Verbal Ability.
Brush up on your coding skills, especially in languages like Java, C, C++, and Python.
2. What are the key qualities or skills Wipro Elite NTH looks for in candidates?
Wipro Elite NTH primarily seeks candidates who possess:
Strong coding skills
Good communication abilities
Logical reasoning and problem-solving capabilities
Confidence during interviews
3. Do you have any general interview preparation tips for success at Wipro Elite NTH?
For a successful interview at Wipro Elite NTH, consider these tips:
Prepare for technical questions related to programming languages, data structures, and algorithms.
Be ready to discuss your past projects or internships.
Work on your soft skills, especially communication and confidence.
4. What should I expect in the aptitude section at Wipro Elite NTH?
In the aptitude section, you can expect questions on Quantitative Aptitude, Logical Reasoning, and Verbal Ability. The duration for this section is 48 minutes.
5. What should I expect in the written communication section at Wipro Elite NTH?
The written communication section typically involves essay writing and lasts for 20 minutes.
6. What should I expect in the coding section at Wipro Elite NTH?
The coding section will require you to solve two coding programs in languages like Java, C, C++, or Python. The duration for this section is 60 minutes.
Explore More Wipro Elite NTH Resources