October 10, 2023
Wipro Elite NTH Recruitment Process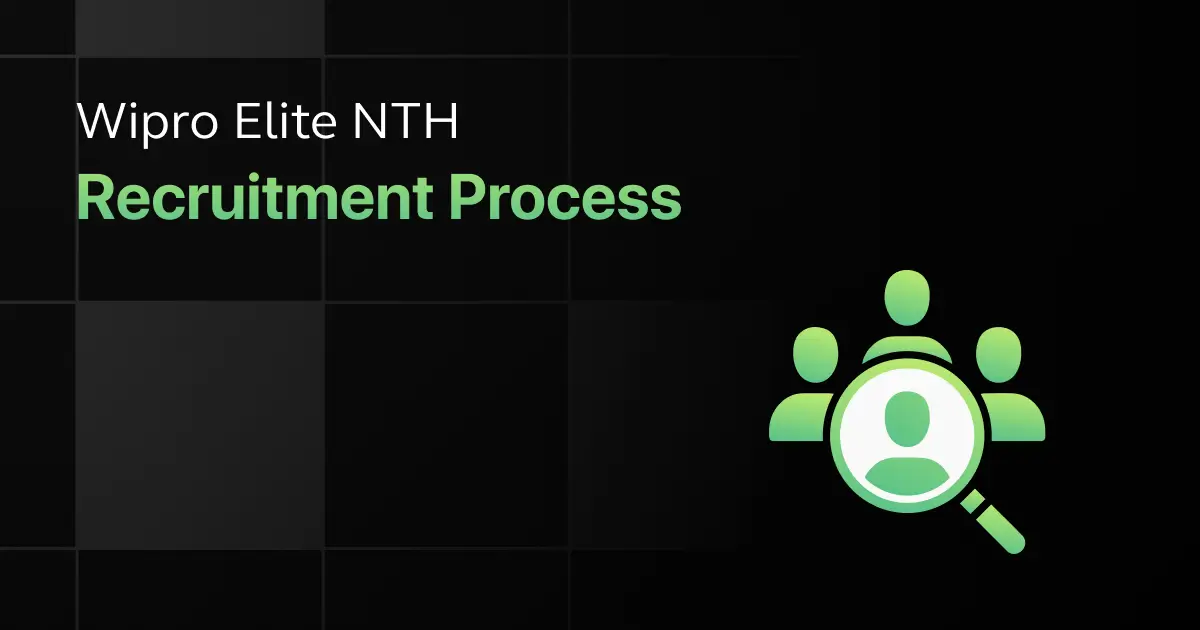 If you're a fresher seeking an exciting opportunity with Wipro, one of the leading IT companies, the Wipro Elite NTH Recruitment process can be your gateway to a promising career.
In this guide, you can delve into the details of the Wipro Elite NTH hiring and interview process for freshers, shedding light on what aspiring candidates can expect as they embark on this exciting career opportunity.
Wipro Elite NTH Job Roles
Wipro offers a wide range of jobs after qualifying the Wipro Elite NTH, including both IT and non-IT roles.
The specific job roles that are available to Wipro Elite NTH qualifiers will vary depending on the company's needs and the candidate's skills and experience.
| Job Role | Package Offered |
| --- | --- |
| Project Engineer | 3.5 LPA |
| Wipro Turbo Engineer | 7 LPA |
Wipro Elite NTH Recruitment Eligibility Criteria
While Wipro Elite NTH offers an exciting path to a career with Wipro, to get started you must meet specific eligibility criteria.
Here's a detailed breakdown of the recruitment eligibility criteria for Wipro Elite NTH:
| Requirements | Criteria |
| --- | --- |
| Eligible Course | B.E./B. Tech (Compulsory degree) / M.E./M. Tech (5-year integrated course) |
| Eligibility Streams | All the streams related to information technology and computer science. |
| Gap Criteria | Max 3 years of GAP |
| Percentage Criteria | 60% or greater in X, XII, UG |
| Backlog Criteria | 1 (one) Backlog |
| Age Limit | Up to 25 years old |
Wipro Elite NTH Recruitment Process for Freshers 2023
The Wipro Recruitment Process comprises several distinct steps, each with its own set of requirements and assessments.
All the stages of the test are detailed below, and it's worth noting that, with the exception of the Pre-Placement Talk, participation in all other rounds is mandatory.
1. First Step – Pre-Placement Talk (Optional)
The "Pre-Placement Talk (Optional)" is the inaugural stage of the Wipro Elite NTH recruitment process, conducted on-campus and led by HR professionals.
It offers candidates a valuable glimpse into Wipro's corporate environment and career prospects.
2. Second Step – Online Assessment
Here's a quick overview of what to expect from Wipro Elite NTH Recruitment Process online assessment:
| Wipro Elite NTH Section | Total Questions | Duration |
| --- | --- | --- |
| Aptitude Test | 48 | 52 minutes |
| Essay Writing | 1 (Topic) | 20 minutes |
| Coding Round | 2 (Coding) | 60 minutes |
| Interview Technical/ HR | - | - |
2.1 Aptitude Test
The aptitude test evaluates your logical ability by assessing your problem-solving skills, your capability to think logically, and your aptitude for analyzing patterns.
2.1.1 Quantitative Ability
Candidates' mathematical aptitude is gauged in this section, covering topics such as arithmetic, algebra, geometry, and data interpretation.
2.1.2 Logical Ability
This section evaluates candidates' logical reasoning skills, including pattern recognition, deductive reasoning, and critical thinking.
2.1.3 Verbal Ability
This segment assesses candidates' proficiency in English, including grammar, vocabulary, reading comprehension, and sentence structure. It evaluates their communication skills and language fluency.
2.2 Essay Writing
In this stage, you will have a designated 20-minute timeframe and will be assigned a specific topic. It's imperative to aim for no more than five mistakes, as there is negative marking.
2.3 Coding Test
The coding round consists of two coding tasks with a duration of 60 minutes.
Coding Question (General Coding)- 20 min (Ideal Time)
Coding Question(DSA) – 40 min (Ideal Time)
Candidates have the flexibility to select from the following programming languages: Java, C, C++, or Python.
3. Interview (2 Rounds)
The Wipro Elite NTH Recruitment Process also has a Technical Round where the candidates' technical knowledge and domain-specific expertise will be thoroughly assessed.
Two Interview Panels: During this interview stage, candidates will interact with two distinct interview panels:
Technical Expert Panel: This panel consists of experts in the relevant technical domain. They assess a candidate's technical knowledge, problem-solving abilities, and their understanding of key concepts related to their field.
HR Panel: The HR panel focuses on assessing the candidate's soft skills, communication abilities, and cultural fit within Wipro. They may ask questions about the candidate's background, experiences, and motivations.
FAQs
1. How many rounds are there in Wipro Elite NTH recruitment process?
There are four rounds in the Wipro Elite NTH recruitment process.
2. What are the rounds in Wipro Elite NTH recruitment process?
The rounds include Pre-Placement Talk (optional), Online Assessment (comprising Aptitude Test, Quantitative Ability, Logical Ability, Verbal Ability, Essay Writing, and Coding Test), Technical Interview, and HR Round.
3. Which rounds are elimination rounds in the Wipro Elite NTH recruitment process?
The elimination rounds are the Online Assessment and the Technical Interview.
Explore More Wipro Elite NTH Resources