November 10, 2023
Upcoming Hackathons in Delhi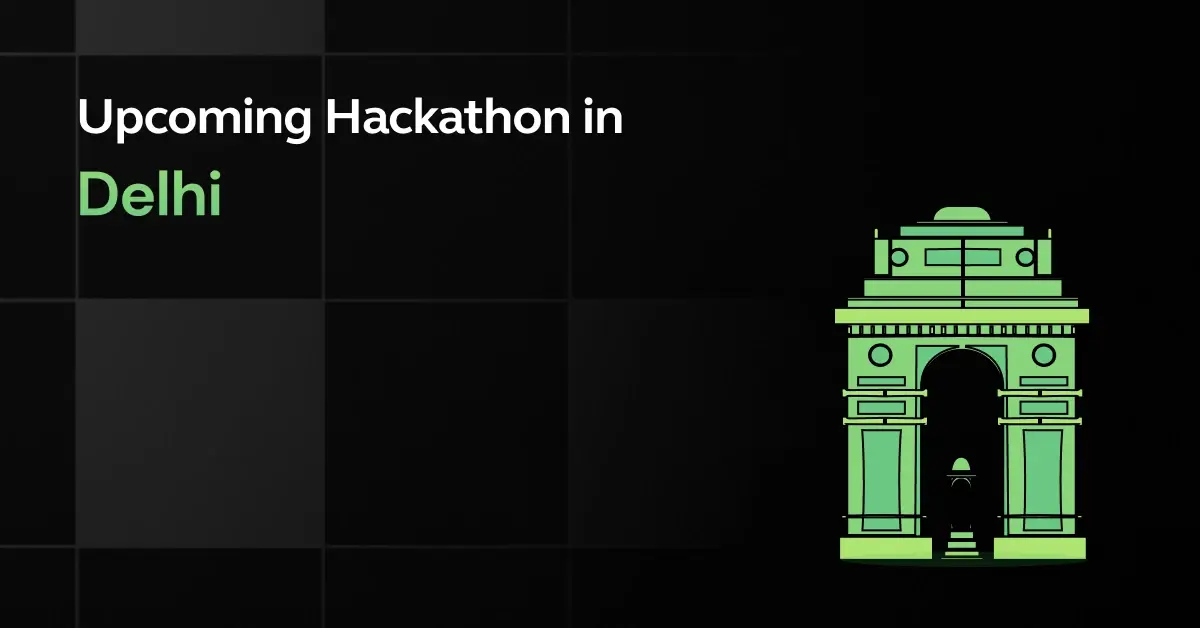 Curious about where Delhi's brightest minds will be flocking this November? The city's tech landscape is buzzing with anticipation for the upcoming hackathons in Delhi, where innovation meets real-world challenges.
We're unpacking the most awaited hackathons, giving you the lowdown on what to expect, how to prepare, and why each could be the game-changer for your coding journey. Stick around, and let's decode the tech marathons set to electrify Delhi's digital streets.
Overview of Upcoming Hackathons in Delhi
Here's an overview of hackathons happening in Delhi this month:
| S.No. | Hackathon | Mode | First Prize | Registration Link |
| --- | --- | --- | --- | --- |
| 1. | Climate and Sustainability Hackathon | Online | USD 8,000 | Register Here |
| 2. | Canara DACOE-Thon | Online | INR 2,00,000 | Register Here |
| 3. | Cricket Code Champions Hack | Online | INR 25,000 | Register Here |
| 4. | IBW Hackathon: ICP | Online | Prize Pool: USD 35,000 | Register Here |
Upcoming Hackathons in Delhi in November
Below is the list of Upcoming Hackathons in Delhi in November 2023:
1. Climate and Sustainability Hackathon with Cloudera and AMD
The Climate and Sustainability Hackathon with Cloudera and AMD is a call to action for data scientists to create machine learning solutions for environmental sustainability. Students will benefit immensely, gaining hands-on experience with Cloudera Machine Learning and AMD's robust computing capabilities to tackle real-world problems. The prize pool is a generous USD 14,000, with the top prize being USD 8,000, promising not just recognition but also a tangible reward for your innovative solutions.
2. Canara DACOE-Thon (Data Analytics Centre of Excellence)
Canara DACOE-Thon is a beacon for tech-savvy individuals to converge and conjure up innovative solutions for the banking sector.
Students and professionals alike stand to gain invaluable experience in data analytics, working on real banking challenges that could shape the future of finance.
The stakes are high with a prize pool that includes INR 2,00,000 for the winner, ensuring that the rewards match the ingenuity of the solutions.
3. Cricket Code Champions Hack
The Cricket Code Champions Hack marries the excitement of the ICC Cricket World Cup with the innovative spirit of technology.
Participants, especially students, will not only engage with the sport they love but also enhance their coding skills by developing solutions for cricket-related challenges.
The hackathon boasts a prize pool with the top award being INR 25,000, a substantial incentive for cricket and coding enthusiasts alike.
4. IBW Hackathon: ICP
The IBW Hackathon: ICP is an innovative event that's set to revolutionize the way we interact with the internet, thanks to the Internet Computer Protocol (ICP).
It's a golden opportunity for students and tech enthusiasts to dive into the world of blockchain and contribute to the evolution from Web 2.0 to Web 3.0.
With a substantial prize pool of USD 35,000, it's not just about making a mark in the tech world but also about the potential for a lucrative reward.
Frequently Asked Questions
1. When and where are the next hackathons happening in Delhi?
The upcoming hackathons in Delhi include these events:
Climate and Sustainability Hackathon with Cloudera and AMD
Canara DACOE-Thon
Cricket Code Champions Hack
IBW Hackathon: ICP
For specific dates and venues, it's best to check online platforms like HackerEarth.
2. How can I register for a hackathon event in Delhi?
Registration can be done online through the event's official website or platforms like HackerEarth. Usually, you'll need to fill out a form and sometimes submit a project proposal.
3. Are there any specific eligibility criteria to participate in these hackathons?
Eligibility criteria differ from one hackathon to another. Some may be open to all, while others might target professionals or students in specific fields such as data science or blockchain technology.
4. What are the typical duration and format of hackathons in Delhi?
Hackathons in Delhi usually range from a single day to a full weekend, lasting anywhere from 24 to 48 hours. They are often held online and involve collaborative coding and problem-solving.
5. Do I need to have a technical background to participate?
A technical background can be advantageous, but it is not always necessary. Many hackathons encourage multidisciplinary teams and value skills in design, entrepreneurship, and other areas.
6. Are there any famous or notable hackathons in Delhi that I should keep an eye on?
Yes, keep an eye out for events like the Cricket Code Champions Hack and the ICPxIBW Hackathon, which have been making waves for their innovative themes and significant impact on the tech community.
Final Words
Delhi's hackathon scene is vibrant and offers a plethora of opportunities for coders, innovators, and thinkers alike. They're not just competitions; they're incubators for tomorrow's technology and networking hubs that could very well spark the next big idea in tech.
Explore More Locations