November 14, 2023
Upcoming Hackathons in Hyderabad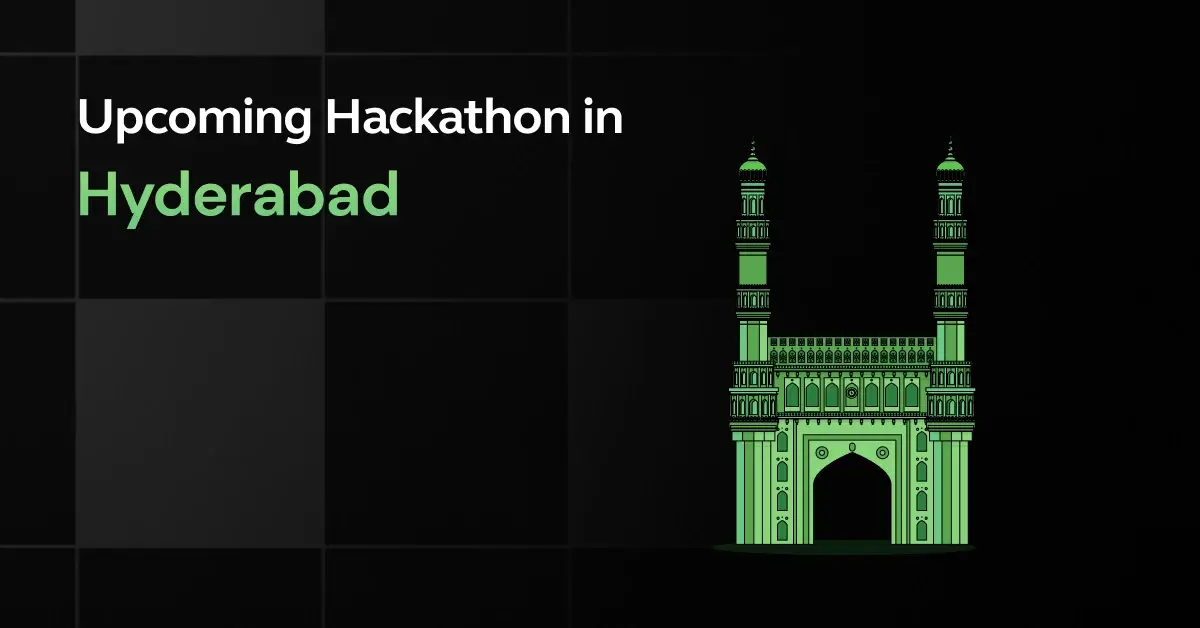 Ever wondered what it takes to be at the forefront of technological innovation? The upcoming hackathons in Hyderabad this November 2023 are brewing a storm of coding challenges and creative problem-solving.
In our latest blog, unravel the layers of these hackathons in Hyderabad, as we guide you through choosing the right event that promises not just competition, but a transformative journey of learning, networking, and personal growth.
Overview of Upcoming Hackathons in Hyderabad
Here's an overview of hackathons happening in Hyderabad this month:
| S.No. | Hackathon | Mode | First Prize | Registration Link |
| --- | --- | --- | --- | --- |
| 1. | Develop and Grow a Successful Virtual Reality Tech Startup Business Today! | Online/In-person | Tech Entrepreneurship Diploma | Register Here |
| 2. | Shade Perpetual Swap Hackathon | Online | Grant from Shade Protocol | Register Here |
| 3. | GreenBiz Hackathon 2023 | Hybrid | Up to INR 1 lakh | Register Here |
| 4. | VJ Hackathon 2023 | Offline | INR 50,000 | Register Here |
| 5. | Innovasia 2023 | Offline | INR 10,000 | Register Here |
Upcoming Hackathons in Hyderabad in November
Below is the list of upcoming hackathons in Hyderabad in November 2023:
1. Develop and Grow a Successful Virtual Reality Tech Startup Business Today!
The "Develop and Grow a Successful Virtual Reality Tech Startup Business Today!" event is a comprehensive workshop-cum-hackathon in Hyderabad, designed to immerse participants in the world of Virtual Reality (VR) entrepreneurship.
Students will benefit from an extensive curriculum that spans from foundational VR concepts to advanced business skills, equipping them with the knowledge to launch their own tech startups.
Although there is no prize money, participants will walk away with a valuable Tech Entrepreneurship Certification/Diploma, marking their foray into the VR industry.
2. Shade Perpetual Swap Hackathon
The Shade Perpetual Swap Hackathon is a cutting-edge online competition aimed at creating private decentralized finance (DeFi) solutions through the use of secret contracts.
Participants, particularly those with a knack for smart contract development and an interest in DeFi, stand to gain hands-on experience in building on the Secret Network, a platform that prioritizes privacy and security.
The prize for the winning team is a significant grant from Shade Protocol and Secret Labs to develop their concept into a live product on the Secret Network Mainnet.
3. GreenBiz Hackathon 2023
The GreenBiz Hackathon 2023 is an event dedicated to fostering sustainable solutions in waste management, emphasizing the adoption of circular economy principles.
Students and professionals who participate will benefit from the opportunity to engage with industry experts, receive mentoring, and gain incubation support to bring their innovative ideas to life.
The event offers cash prizes totaling up to INR 1 hundred thousand for the most groundbreaking solutions presented.
4. VJ Hackathon 2023
The VJ Hackathon 2023 in Hyderabad is a 24-hour event designed to challenge and enhance the creativity and problem-solving skills of students and professionals in the tech industry.
Participants will gain the opportunity to demonstrate their abilities, engage in real-world problem-solving, and potentially secure internships with full-time employment offers.
The event boasts a prize pool with the winner receiving INR 50,000, the first runner-up INR 25,000, and the second runner-up INR 15,000, along with participation and winner certificates for all finalists.
5. Innovasia 2023
Innovasia 2023 is an innovation-centric hackathon hosted by Vasavi College of Engineering in Hyderabad, focusing on themes like Health and Wellness, Lifestyle and Environment, and Tourism and Culture.
Students enrolled in bachelor's degree programs will benefit from the opportunity to develop and present solutions, enhancing their creative and technical skills for future sustainability.
The event offers a prize pool with INR 10,000 for first place, INR 7,500 for second place, and INR 5,000 for third place in each theme category.
Frequently Asked Questions
1. When and where are the next hackathons happening in Hyderabad?
The next hackathons in Hyderabad are:
Develop and Grow a Successful Virtual Reality Tech Startup Business Today! – November 8
Shade Perpetual Swap Hackathon – November 16
GreenBiz Hackathon 2023 – November 20
VJ Hackathon 2023 – November 24
Innovasia 2023 – October 6
For specific dates and venues, it's best to check online platforms like HackerEarth.
2. How can I register for a hackathon event in Hyderabad?
Registration can be done online through the event's official website or platforms like HackerEarth. Usually, you'll need to fill out a form and sometimes submit a project proposal.
3. Are there any specific eligibility criteria to participate in these hackathons?
Eligibility criteria differ from one hackathon to another. Some hackathons are open to all, including students and professionals, with no prior technical background required, while others may target specific groups such as developers with experience in smart contract development or students currently enrolled in a bachelor's degree program.
4. What are the typical duration and format of hackathons in Hyderabad?
Hackathons in Hyderabad can range from 24-hour events to multi-week competitions. They may be conducted in various formats, including online, offline, and hybrid modes.
Participants may need to work individually or in teams, and events may include preliminary rounds and final on-site development phases.
5. Do I need to have a technical background to participate?
Not necessarily. While some hackathons are technical and require programming or development skills, others are open to anyone with innovative ideas, including those without a technical background. Always check the specific event's eligibility criteria.
6. Are there any famous or notable hackathons in Hyderabad that I should keep an eye on?
Yes, some of the notable hackathons in Hyderabad include the VJ Hackathon organized by VNR Vignana Jyothi Institute of Engineering and Technology, and Innovasia by Vasavi College of Engineering.
Final Words
Hackathons in Hyderabad offer a diverse range of opportunities for individuals to engage in innovation, problem-solving, and networking.
They cater to various interests and skill levels, from students to professionals, and often provide valuable resources, mentorship, and potential career opportunities.
Explore More Locations