March 4, 2023
How to Handle the Stress of Campus Placement Process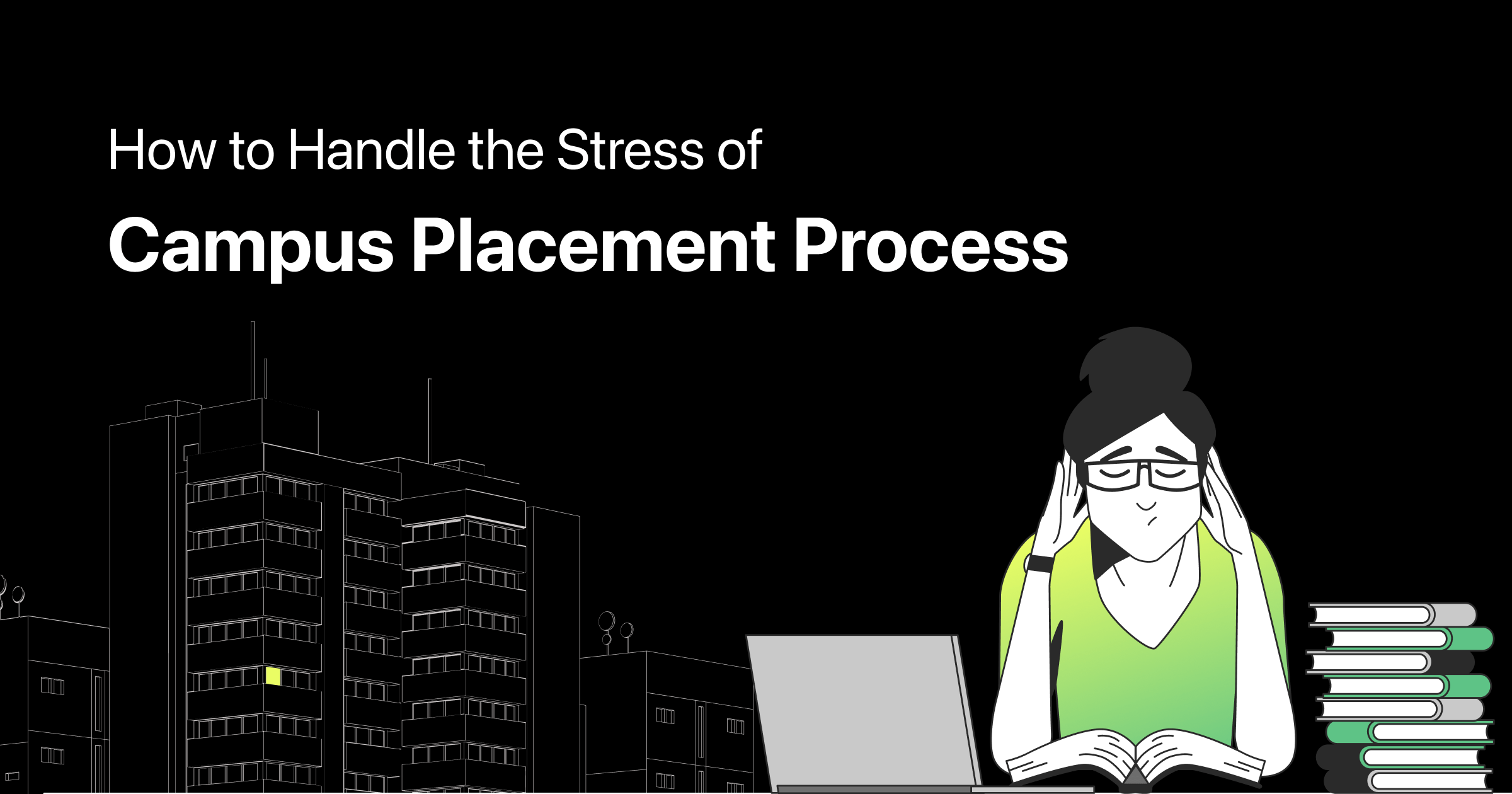 Are you a student about to start on the campus placement process? Are you feeling stressed up about approaching interviews, aptitude exams, and group discussions? You are not alone.
Campus placements can be nerve-racking for many students since they are an important step on the path towards their professional objectives.
This article will go through ways to deal with the stress of the campus placement process. So , if you're worried about the campus placement process, keep reading to find out more.
How to Handle the Stress of Campus Placement Process
Following are Tips on How to Handle the Stress of the Campus Placement Process:
1. Start Early
When it comes to dealing with the stress of the campus placement process, starting early is essential. The earlier you begin, the more time you will have to develop and improve your skills. This will not only put you above other applicants, but it will also give you the confidence to perform well in interviews, aptitude exams, and group discussions.
One of the first things you should do is study the companies participating in the campus placement process. Learn about their selection criteria, job descriptions, and the qualities they are seeking in candidates. This will help you understand what you need to improve on and how to increase your likelihood of being selected.
Beginning early also allows you to hone your technical and soft skills.If you are searching for an IT job, for example, you can learn a new programming language or polish up on your coding skills. Similarly, if you're looking for a managerial position, you can hone your leadership, communication, and team management skills.
2. Set Realistic Goals
Setting realistic goals is important for dealing with the stress of the campus placement process. Students commonly develop unrealistic expectations of themselves, which leads to disappointment and stress. As a result, it is essential to establish realistic goals and work towards them steadily.
To develop realistic goals, first assess your strengths and shortcomings. Determine your areas for growth and make plans accordingly. For example, if you struggle with public speaking, your objective could be to enhance your communication skills by attending group discussions or joining a public speaking club.
It is also important to divide your goals into smaller, more manageable tasks. For example, if you want to work for a certain company, break it down into activities like researching the company, preparing for the interview, and networking with employees. This will allow you to maintain concentration and make the objective appear more attainable.
3. Stay Organized
One of the most important things you can do to handle stress throughout the campus placement process is to be organized. With so much to think about, it's easy to become overwhelmed and feel as if you don't know where to begin. That is why making and keeping to a schedule is necessary.
Start by creating a list of all the things you need to do before starting campus placements. This could include conducting company research, updating your resume, practicing interview questions, and attending mock interviews. Once you've made a list, prioritize the tasks according to their relevance and deadline.
Next, make a plan for your preparation. Divide each work into smaller, more manageable tasks and schedule them for particular days and times. Adhere to your schedule as much as possible, but be prepared to be flexible if anything unexpected arises. Don't be concerned if you miss a task or go behind schedule. Just rearrange your schedule and prioritize your most important things.
Lastly, keep all of your paperwork and materials organized. Make folders on your computer or in a physical desk drawer for each company you are applying to. Maintain a folder for your resume, cover letter, and other materials for that company. This will assist you in remaining organized and minimizing last-minute stress.
4. Practice Self-care
Self-care is one of the most essential things you can do to deal with the stress of the campus placement process. Taking care of yourself can help you manage your stress and have a positive attitude.
Make sure that you're getting enough sleep. Sleep deprivation can make you exhausted, irritable, and unable to concentrate. Make sure you get at least 7-8 hours of sleep each night to be rested and active.
Second, exercise on a regular basis. Exercise is an excellent way to reduce stress and improve your state of mind. Choose an exercise you like, whether it's jogging, swimming, or yoga, and include it in your daily routine.
And when we are talking about self-care, the list cannot be complete without good food. A healthy, balanced diet is also recommended. A healthy diet can help you stay energised and focused. Include lots of fruits and vegetables, lean protein, and whole grains in your diet.
Also, don't forget to take breaks and participate in interesting activities. Take breaks from your studies and interview preparation to do something you love, such as catching up on reading, watching a film, or spending time with friends and family.
5. Seek Support
Seeking support from friends, family, or a mentor is one of the most effective methods to manage the stress of the campus placement process. Speaking with someone about your concerns and emotions can make you feel less lonely and more supported at this difficult time.
Your family and friends can offer you emotional support, encouragement, and inspiration. They can help you see things from a fresh perspective and provide you with advice on how to deal with challenging situations. They can also help you relax and divert your attention away from the stress of the campus placement process by engaging in enjoyable activities.
Remember that asking for help does not mean that you are weak or incapable. Asking for help when you need it is a sign of strength and maturity. Thus, if you're feeling overwhelmed, don't be nervous about reaching out to your support system.
Frequently Asked Questions
1. Are campus placements stressful?
It is natural for campus placements to be stressful, as it is an important step towards a student's career. However, by preparing yourself well, staying organized, and seeking support, you can manage the stress effectively and perform well in the interviews.
2. How can students prepare themselves mentally ahead of campus placements?
To prepare yourself mentally for campus placements, start early and practice consistently. Research the companies you are interested in and participate in mock interviews and group discussions to feel more confident. Also maintain a healthy lifestyle by getting enough sleep, exercise, and nutrition to stay energized and focused.
3. How do you motivate yourself at hard times in the campus placement process?
During hard times in the campus placement process, visualize yourself succeeding, stay organized, and remind yourself of your strengths and abilities. You can also seek support from friends, family, or a mentor to stay motivated and confident.
4. How do you deal with rejection in campus interviews?
Dealing with rejection in campus interviews can be challenging, but it is important to not take it personally. Instead, focus on learning from the experience and improving your skills. Seek feedback from the interviewers and work on areas that need improvement.
Final Words
We hope that this blog has provided you with valuable insights and tips on how to handle the stress of the campus placement process.
It is perfectly normal to be anxious during this campus placement process, but do not allow it to overwhelm you. With a positive attitude and hard work, you can achieve your career goals and land your dream job. Remember, stay calm, stay focused, and stay motivated. Good luck!
Explore More Resources