October 24, 2023
TCS Ninja Recruitment Process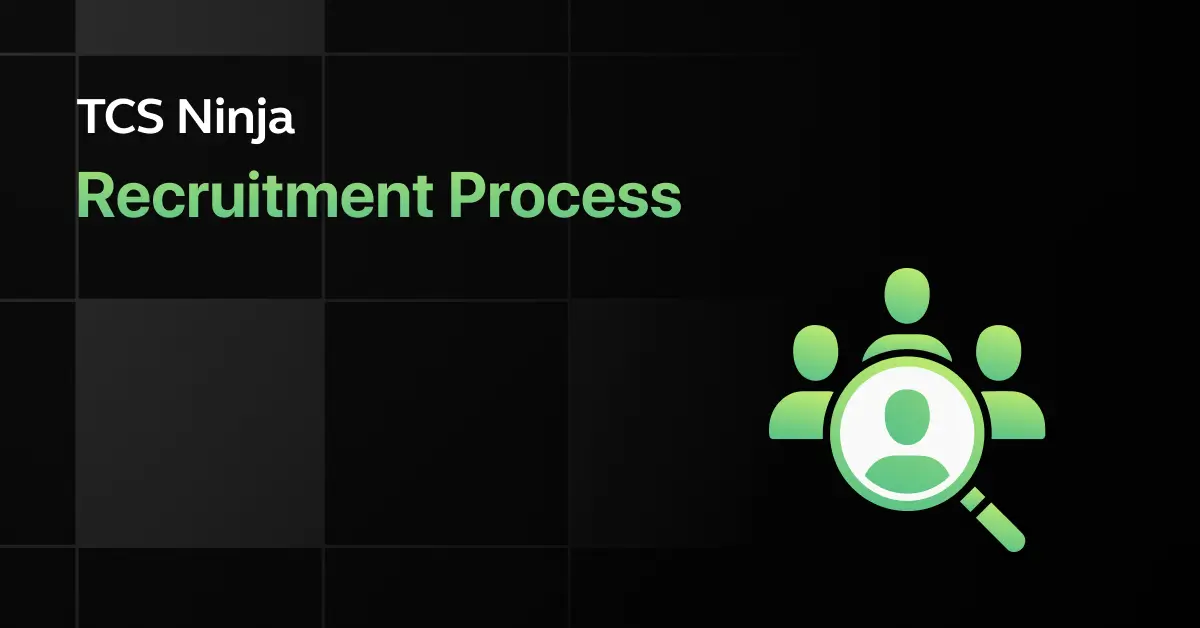 If you're eager to kickstart your career in the IT sector, the TCS Ninja Recruitment process is your stepping stone to success. This off-campus hiring initiative aims to recruit talented freshers to become part of the TCS family.
In this guide, we'll delve into the TCS Ninja hiring and interview process for freshers, providing insights for aspiring candidates looking to seize this incredible career opportunity.
TCS Ninja Job Roles
TCS Ninja offers an array of job roles upon successful qualification, encompassing both IT and non-IT sectors.
The specific roles available to TCS Ninja qualifiers are subject to the company's requirements and the candidate's skill set and experience.
| IT roles | Non-IT |
| --- | --- |
| Software Developer | Sales Coordinator |
| Front-end Developer | Business Analyst |
| Back-end Developer | Marketing Associate |
TCS Ninja Recruitment Eligibility Criteria
To embark on a career journey with TCS through the Ninja program, you must meet certain eligibility criteria.
Here's a comprehensive rundown of the recruitment eligibility criteria for TCS Ninja:
| S.No | Eligibility Criteria for TCS Ninja | Information |
| --- | --- | --- |
| 1. | Eligible Course | B.E / B.Tech / M.E / M.Tech / M.Sc / MCA – 2024 Batch |
| 2. | Eligible Streams | All streams related to IT and computer science are eligible. |
| 3. | Gap Criteria | Maximum 1-year gap allowed. |
| 4. | Percentage Criteria | 65% or above in X/XII/all other degrees. |
| 5. | Backlog Criteria | No active backlogs allowed. |
| 6. | Age Limit | 18-28 years old. |
TCS Ninja Recruitment Process for Freshers 2024
The TCS Ninja Recruitment Process is a structured pathway that starts with an Orientation Session, followed by an Aptitude Test, and culminates in the final Interview round.
Here's the breakdown:
1. First Step – Pre-Presentation
TCS often partners with selected colleges to conduct an orientation session. This session serves as the recruitment process's starting point and includes a presentation by TCS HR representatives.
2. Second Step – Aptitude Test
The TCS Ninja aptitude test consists of two main sections:
| TCS NQT Section | Total Questions | Duration |
| --- | --- | --- |
| Part A: Foundation Section (Mandatory for Ninja Aspirants) | | |
| - Traits | 1 | 75 minutes(shared) |
| - Numerical Ability | 20 | |
| - Verbal Ability | 25 | |
| - Reasoning Ability | 20 | |
2.1. Foundation Round (Mandatory for Ninja Aspirants)
The Foundation Round forms the initial segment of the TCS NQT written test. It serves as the cornerstone for assessing fundamental skills and attributes.
2.1.1. Traits
This section assesses your personality traits and characteristics. It may involve questions related to your behavior, preferences, and how you handle different situations.
It's designed to gauge your suitability for the role and the company culture.
2.1.2 Numerical Ability
In this part, you'll be tested on your quantitative skills. You can expect mathematical questions that cover a range of topics such as arithmetic, algebra, geometry, and data interpretation.
The goal is to evaluate your ability to work with numbers and solve mathematical problems.
2.1.3 Verbal Ability
This section evaluates your language and communication skills. It may include questions on grammar, vocabulary, reading comprehension, and sentence structure.
Strong verbal abilities are crucial in many professional roles, especially those that involve written and verbal communication.
2.1.4 Reasoning Ability
Reasoning ability assesses your logical thinking and problem-solving skills. You might encounter questions related to puzzles, pattern recognition, and logical deduction.
This section aims to measure your capacity to analyze information and make sound decisions.
3. Interview
The interview stage aims to provide a holistic assessment of candidates. It evaluates not only their technical competence but also their interpersonal skills, adaptability, and problem-solving capabilities.
The interview session is a comprehensive process that can vary in duration, typically spanning from 25 to 40 minutes.
Three Interview Panels: During this interview stage, candidates will interact with three distinct interview panels:
Technical Expert Panel: This panel consists of experts in the relevant technical domain. They assess a candidate's technical knowledge, problem-solving abilities, and their understanding of key concepts related to their field.
HR Panel: The HR panel focuses on assessing the candidate's soft skills, communication abilities, and cultural fit within TCS. They may ask questions about the candidate's background, experiences, and motivations.
Managerial Panel: The managerial panel evaluates a candidate's managerial and leadership potential. They may pose situational and behavioral questions to gauge the candidate's ability to handle challenges, make decisions, and work effectively within a team.
FAQs
1. How many rounds are there in TCS Ninja recruitment process?
There are 3 rounds in the TCS Ninja recruitment process.
2. What are the different rounds in TCS Ninja recruitment process in 2024?
The rounds include Pre-Presentation Session, Aptitude Test, and Interview.
3. Which rounds are elimination rounds in the TCS Ninja recruitment process?
The elimination rounds are the Aptitude Test.
Explore More TCS Ninja Resources