November 28, 2022
Most Important Quantitative Aptitude Topics for IT Companies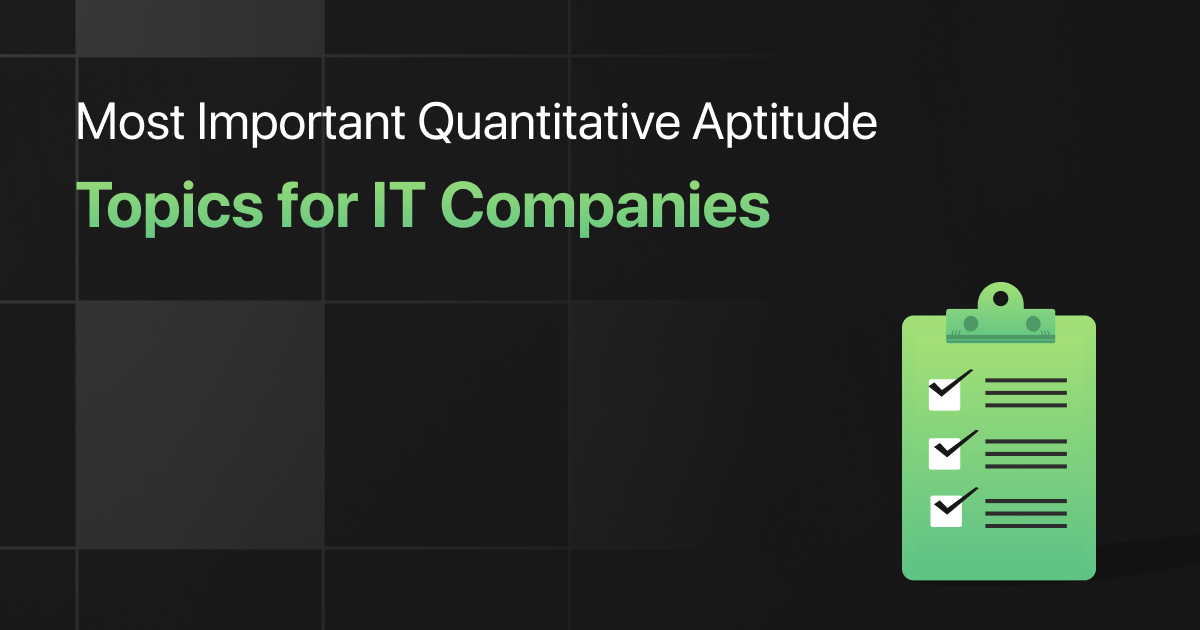 Placement season is coming, and students throughout the country are gearing up. A software company's placement process typically consists of 3 to 4 rounds. The first round consists of a written exam in which you will be evaluated on the Quantitative Aptitude test.
However, because of the broad syllabus of Quantitative Aptitude, it is challenging for students to determine which topics are important in their preparations. Thus, it's natural that every student wishes to specially prepare well for important aptitude topics for software companies before their placements.
So, to effectively address the challenge, we have created a list of the most important quantitative aptitude topics for IT companies.

Following are the Important Quantitative Aptitude topics for IT Companies :
Now that you understand the best topics for aptitude test in IT companies, you must focus on dividing the time effectively for each topic.
You can master the easy ones first and then move on to more difficult quantitative aptitude topics for placement exams like probability, permutation and combinations, number systems, etc.
Why Quantitative Aptitude Section is Asked in IT Companies
Many students wonder, "Why Are You Tested for Quantitative Aptitude in IT Companies?" as they begin their placement preparation.
In recent years, Quantitative Aptitude tests have become the standard for almost all competitive exams in India. And students who score well in their Quantitative Aptitude examinations are more likely to demonstrate excellent problem-solving abilities, thinking abilities, quick decision-making skills, etc.
Companies value these skills because they could help them achieve greater success.
Frequently Asked Questions
1. Which aptitude topics are asked in IT companies?
The Most Common Aptitude Topics asked in IT companies are Time & Work, Distance & Speed, Permutations and Combinations, and Percentage & Numbers.
2. Why is the importance given to quantitative aptitude in software companies rounds?
Quantitative Aptitude is considered extremely important for placement preparation as it helps the companies assess the problem solving skills, accuracy, attention to detail, reasoning abilities and under-pressure performance skills in a potential candidate.
3. How to prepare for quantitative aptitude for IT companies?
To prepare for Quantitative Aptitude for placements in IT companies, you must follow these basic steps:
Thoroughly research about the placement exams, its dates, new pattern, toppers interviews, or any other news.
Know the syllabus and map out your strengths and weaknesses.
Get guidance/coaching/study material from credible sources.
Understand the concepts from the start.
Learn shortcuts, tricks and tips to improve your performance.
Keep practicing with test papers and maintain good time management.
Final Words
We hope this article helps you identify the most important Quantitative Aptitude Topics for IT Companies. Feel free to reach out to us in the comment section, if you have any suggestions or queries.
Explore Quantitative Aptitude Guides
Explore More Quantitative Aptitude Resources